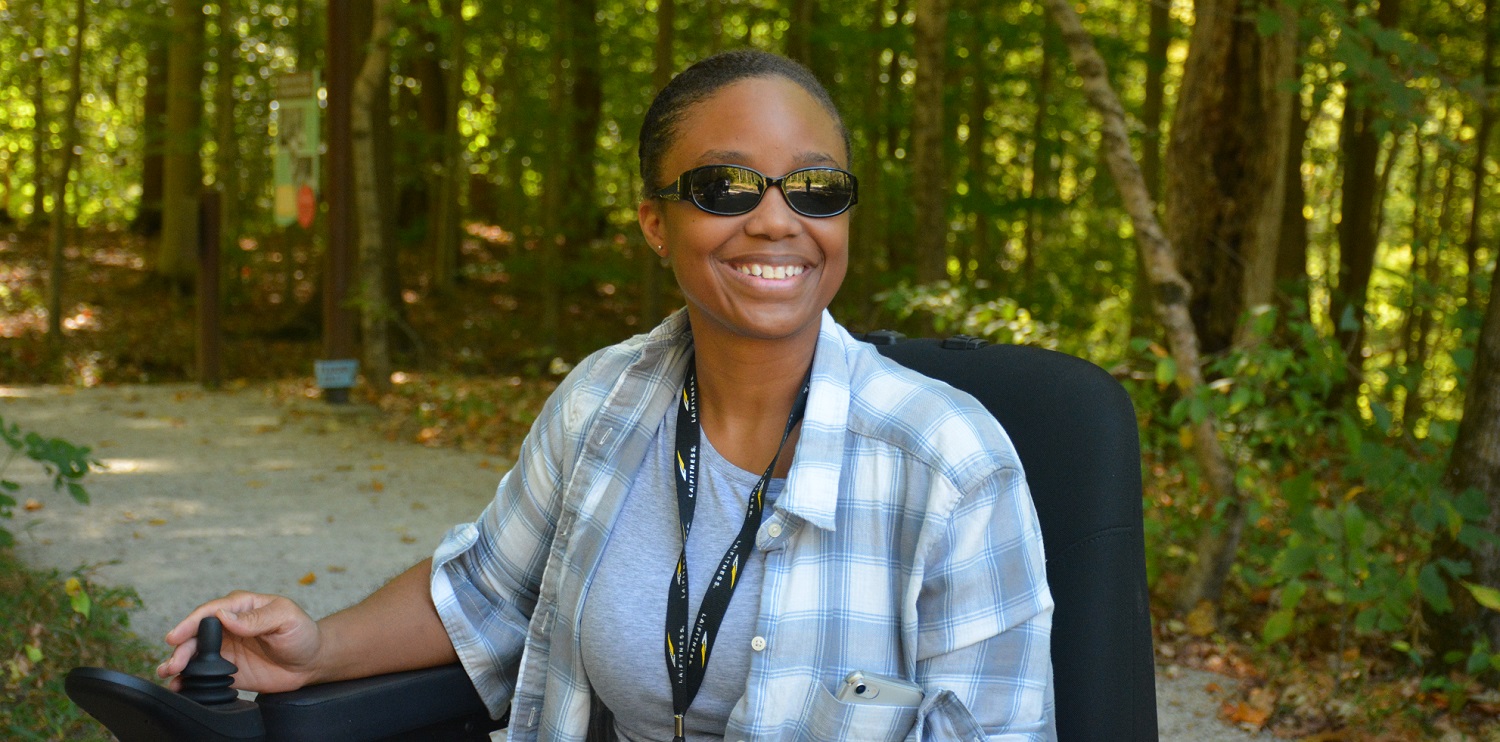 John Muir, an early advocate for conservation and wilderness preservation in the United States, once said: "Everybody needs beauty as well as bread, places to play in and pray in, where nature may heal and give strength to body and soul."
Accessibility to nature is imperative to humans and their health. Spending time outdoors has been proven to improve memory, reduce blood pressure, and fight depression. It's one thing to have trouble finding the time to spend outdoors with the hectic schedules of balancing work and home lives in modern society, but what if you had no access to an escape into nature?
Individuals without a disability can sometimes take for granted the ease with which they are able to run outside, hike trails, ride bikes and partake in other outdoor activities. It's not the same for a person living with a disability.
Ryann Deloney, a resident of Indianapolis and resident services director at a retirement community, has lived with a disability during the last several years of her life. Deloney sustained a spinal cord injury while traveling abroad in 2013. Before the accident, she was active outdoors.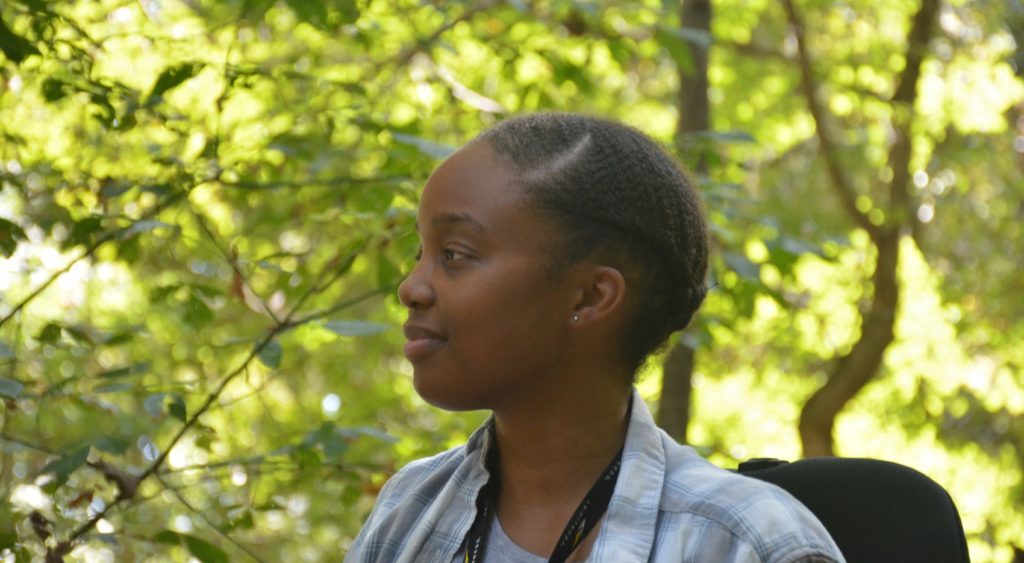 "I have always enjoyed being outdoors," Deloney said. "Riding my bike, rollerblading, and running in local parks had always been my getaway from the busy-ness of school and work. Exercising outdoors has always helped me gain some balance among all my responsibilities, while focusing on my health and fitness as well."
After her injury, Ryann's leg function did not return. She learned to maneuver in a wheelchair and to drive using hand controls, and she continued her work of diligently helping senior citizens in their day to day lives. She has managed to maintain a fulfilling lifestyle. However, her opportunities for outdoor recreation became limited.
"I have fewer opportunities since my spinal cord injury to spend time outdoors, mainly due to being unsure if the route to or through a park is accessible enough for me to manage my wheelchair independently," she said. "The fear of being trapped or stuck on an impassable trail has prevented me from attempting to go on nature hikes that I used to love doing."
Unless trails are firm, stable and maintained regularly, outdoor excursions can be a difficult challenge to some with a mobility disability. New technology can help overcome some of the barriers. The Magic Mobility Extreme X8 power chair is a motorized chair that can traverse accessible outdoor trails, including those with surfaces of gravel, dirt, sand and snow. An Extreme X8 is now available at Charlestown State Park in southern Indiana. Chairs like these can come with their own unique challenges, so making them available for public use at parks can is a wonderful resource for those who don't have the ability to purchase and transport their own all-terrain chair.
"I recently had the opportunity at Charlestown State Park to try their heavy duty motorized wheelchair. I was able to go up steep inclines and drive over gravel trails, all while remaining comfortably seated, secure, and not exhausted, as it takes little effort to simply move the joystick," Deloney said.
Funding for the motorized all-terrain wheelchair at Charlestown State Park was made possible by a grant from the Emma L. Snyder Charitable Foundation through the Indiana Natural Resources Foundation. The Emma L. Snyder Charitable Foundation also provided a grant to create an interpretive area at the park that will offer educational and accessible displays, exhibits, and interactive learning areas.
"Making parks accessible is very important and has a lasting impact on many people who want to explore public lands across the state," said Jody Kress, executive director of the Indiana Natural Resources Foundation. "The Foundation sees that need and hopes to continue to make a difference."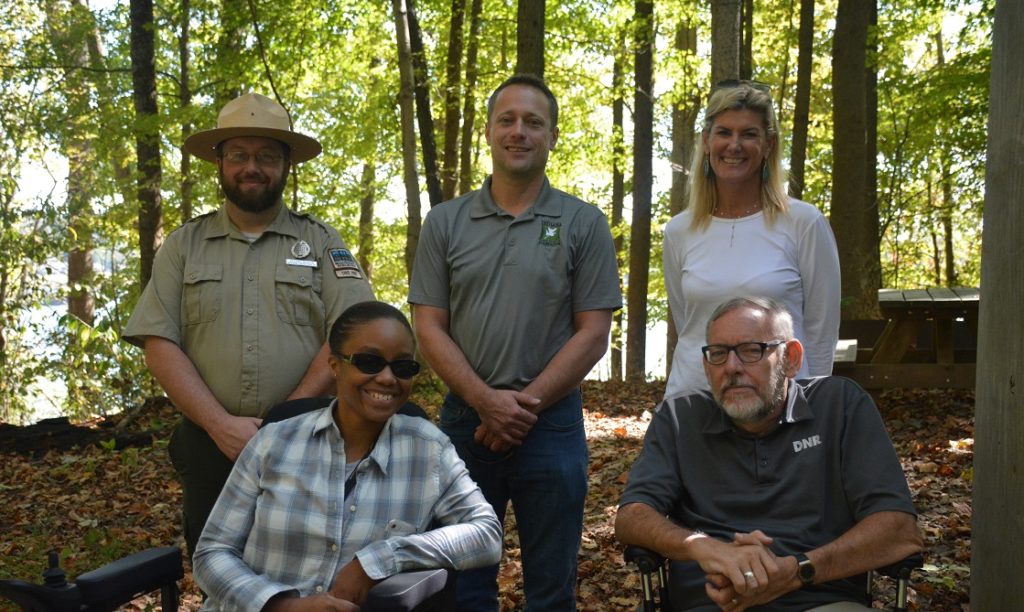 (Pictured clockwise from top left: Jeremy Beavin [Charlestown State Park], Jody Kress [INRF], Elizabeth Dodd [Emma L. Snyder Charitable Foundation], Ric Edwards [Indiana DNR], and Ryann Deloney)
Ric Edwards, ADA/safety program director for Indiana DNR, came along with Deloney the day she tested the all-terrain chair. Edwards said it is important for each state property to remove barriers, where feasible, and to be ADA compliant in order to create outdoor opportunities for all Indiana residents. Parks that make these chairs available not only attract persons with disabilities but also their families and friends who want to enjoy an outdoor hike or bike ride alongside their loved ones.
The list of Indiana state parks with all-terrain chairs is growing. They are currently available at Charlestown, Indiana Dunes State Park, Chain O'Lakes, Fort Harrison, McCormick's Creek, Mounds, O'Bannon, Pokagon and Spring Mill. Park office staff at each park are available to provide tutorials on how to use the chairs.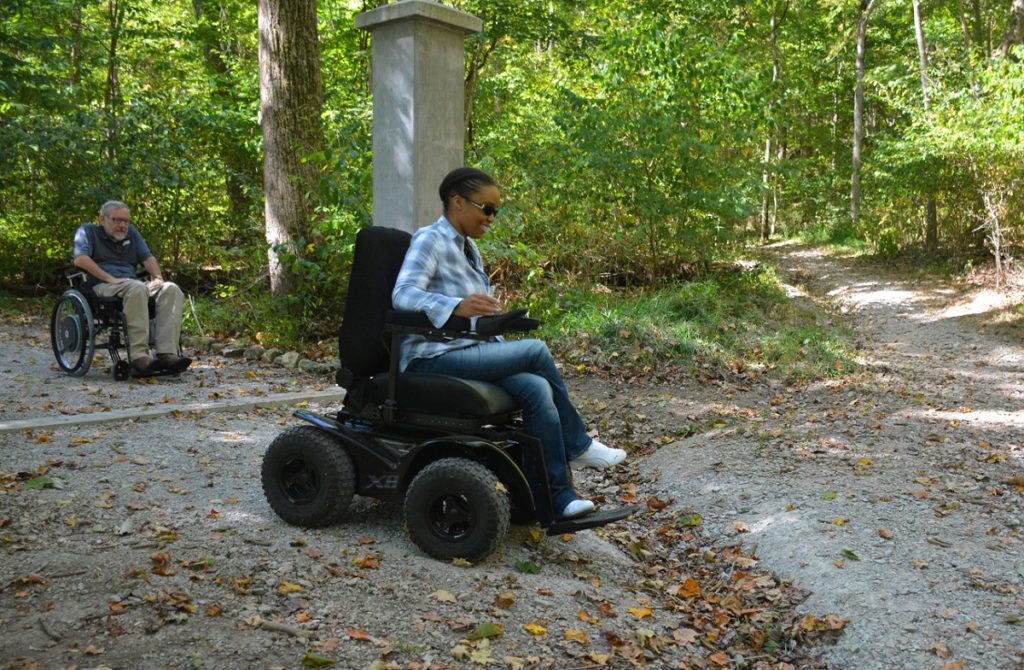 "I truly enjoy the sights, smells, and sounds of nature—like seeing the occasional deer stepping out from among the trees at dusk; sensing the fresh smell of flowers, grass, and everything that's alive and growing; and hearing birds chirping and the wind through the leaves," Deloney said.
"Having accessible trails will help ensure that I am not taking a huge safety risk if I choose to go on an outdoor adventure while in a motorized chair," said Deloney.
Hopefully, with new technology like the all-terrain chair at Charlestown State Park, lack of full accessibility won't hold anyone back from enjoying the benefits of spending time in nature.