Brown County Mountain Bike Project Receives 2020 Give Adventure Grant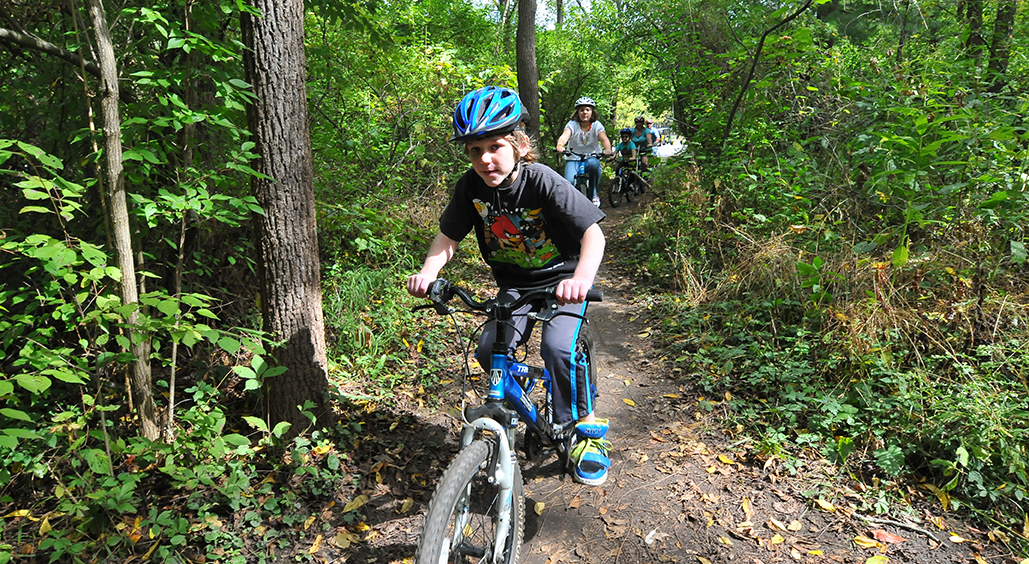 The Indiana Natural Resources Foundation (INRF) presented a check to Brown County State Park, the 2020 recipient of the Give Adventure Grant. The park will use funds to create Beginner Mountain Bike Adventure Workshops. Plans include the creation of an ongoing mountain biking class targeted toward people of all ages who are interested in trying this activity for the first time.
Patrick Haulter, interpretive naturalist at the park, said, "Our goal is to excite our next generation of young adventurers by giving them an experience that will keep them coming back time and time again."
The goal of the workshops is to break down the intimidating barriers that mountain biking can present, not only from a skill level standpoint, but also from a financial standpoint. Mountain bikes and helmets will be made available to beginners, removing the initial cost of trying a new sport. The park plans to partner with local schools in Brown County, which are currently creating a mountain bike club organized by the National Interscholastic Cycling Association (NICA), to give kids who want to join the club but cannot afford the equipment a chance to use the bikes for club activities.
"Supporting projects like this is at the heart of our mission," said Jody Kress, INRF executive director. "Working alongside the DNR and helping them get new and exciting projects off the ground is always a rewarding experience."
The grant funds will go toward the purchase of gear for the beginner mountain biking classes, including bikes, helmets, and a method of transport for the equipment. Brown County State Park will also partner with the DNR Division of Outdoor Recreation and Indiana State Park Inns for this endeavor.
The purpose of the Give Adventure Grant is to help the Indiana Department of Natural Resources engage youth and families across the state as an introductory exploration of natural resources and outdoor recreation. The grant encourages events and programs emphasizing interactive activities that teach outdoor skills and sustainable conservation practices. We are proud to support this venture by Brown County State Park.
Please consider making a donation to the Give Adventure Grant. Help us create adventurous outdoor recreation and conservation opportunities for generations to come.
(Mountain bike photo by Frank Oliver/DNR –The Ford Hoosier Outdoor Experience in September of 2013.)