Annually, the Patoka Lake Nature Center is invited to present for groups all over the state of Indiana.  These programs include elementary and middle school visits, libraries, colleges, businesses, scout troops, summer camps, festivals, fairs, and events for other organizations.
These traveling programs are planned in addition to the weekend activities we offer with the birds at Patoka Lake. Programs for schools, scouts, and other local organizations are offered at the nature center, and we plan and coordinate so these groups may visit even during weeks with traveling presentations.
During traveling presentations, we hit the road with birds in tow sometimes as early as 5 a.m. to ensure the birds arrive safely and on time. The most we traveled offsite with the bald eagle, red-tailed hawk, and eastern screech owl for educational programming was 55 times in one year.
It can take a day or two to prepare for an offsite visit. We must plan a day of fasting if we travel in the morning hours. Our bald eagle gets carsick when left with food in her belly even if fed 12 hours before we travel. We learned that the hard way the first few times we traveled with her back in 2014.
Other programs require a considerable number of materials, from stantion ropes that keep guests a safe distance from the birds to a foldable wingspan display where people can compare their span to that of a bald eagle, great horned owl, and other raptors. The furthest we have traveled with the birds is Muncie, however we do a considerable amount of programming within the counties in the southern half of the state.
Traveling programs change up our regular routine. Each day, the birds are weighed in the morning and receive a health check. During this time, training and enrichment are also taking place. Then the birds might go out for public viewing for several hours. Toward the end of the day, we have time for more training and enrichment.
When we travel, weigh-ins and health checks might get skipped if we are loading the birds in the early morning hours when it is still dark out. On the road, they receive no training or food to prevent carsickness. We complete the program, and the birds are loaded once more and returned to their night mews.
On many occasions we have gotten back after dark, and its tricky to feed the birds by flashlight.  We installed electricity in their shelters so that each mew has its own light to allow for late night feedings to occur after a long day of travel.
Sometimes, like us, the birds get tired. They have had enough travel in a transport box, enough of being woke up in the middle of their sleep, and enough disruption to the normal routine. They choose days that they simply want to be left alone. On that day, we read the signs and we allow them to relax. We give them space, clean their shelter, and provide free food and maybe a little enrichment. We do not train nor handle them when we see the signs that enough is enough.
Effectively reading the body language of our educational ambassadors is a vital skill that myself and our secondary skill trainers must possess. While we are speaking verbally to the crowd in front of us, we are also speaking with nonverbal cues with the bird on our fist.
Our birds can be viewed on weekends year-round when a handler is on duty. Nature center visitors have access to two viewing shelters to see the birds. There are three educational ambassador birds, but since there are two viewing shelters only two birds can be out at a time. The bird you don't see could possibly be enjoying a much-needed day off. They could be embarking on a new training journey that keeps them out of viewing for a while. They might also be in rotation so that each bird gets equal amounts of days in programming.
Check the DNR calendar for upcoming days to view the birds on display.
I hope to see you at one of our many traveling programs or right here at Patoka Lake!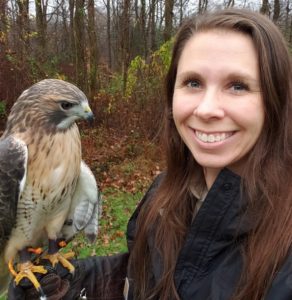 ~Dana Reckelhoff, interpretive naturalist at Patoka Lake