A Year of Change for the Raptors at Patoka Lake

The past year brought many new challenges for our raptor program. In a typical year, we host school groups, scout troops, other organizations, and the general public who come to learn about birds of prey. We are on the road several times a month going to libraries, schools, businesses, volunteer groups and other organizations with live birds in tow. This was not at all what the last 12 months looked like. From wearing masks in front of the birds for the first time, to inviting guests back into our outdoor exhibit area at limited capacity, the past year was quite odd.
The birds quickly adapted to our mask wearing. The travel-free schedule was the strangest part for the birds. We would perform training runs just to keep them in the practice of entering and exiting their transport boxes that we use to travel with them in vehicles. We walked around with them on the glove, while the state was shut down and imagined all the people who would normally be here.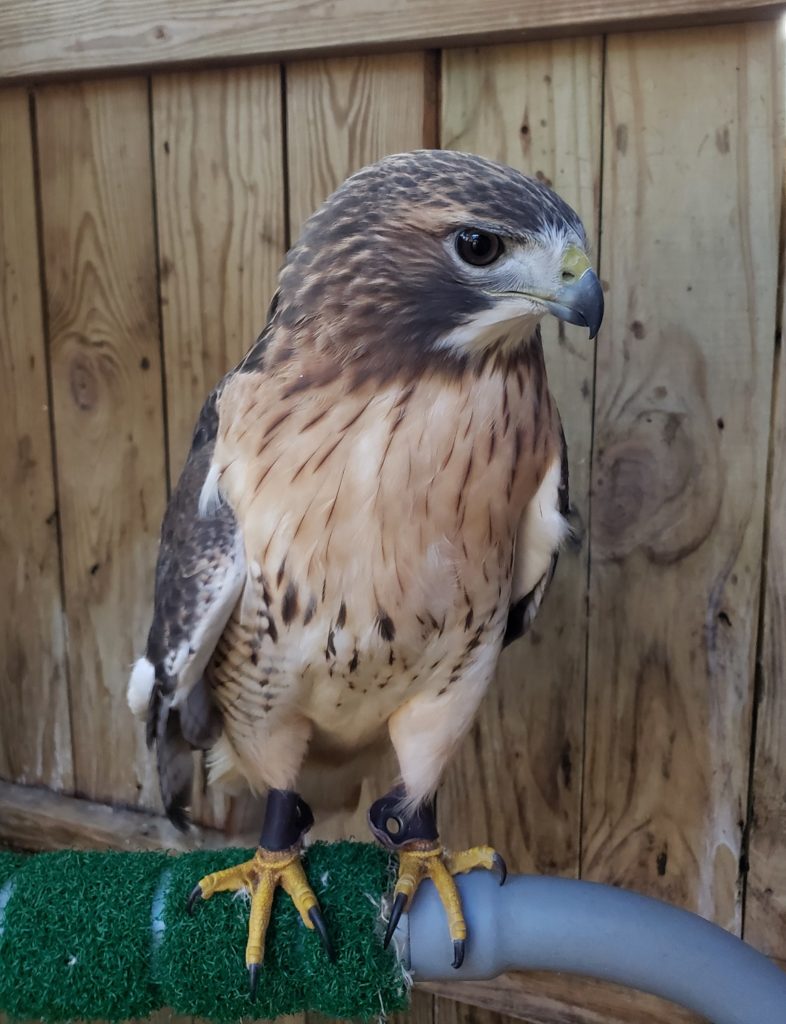 When Indiana State Parks reopened, we had to limit the number of people entering the backyard viewing area for raptor programs. Normally, these programs can draw in 70 or more people on a holiday weekend. We were limited to around 20 spectators for proper social distancing. The presentation was shortened so that it could be repeated for the next 20 people in a revolving door style program. Patrons were lined up to enter the backyard garden at the Nature Center, patiently awaiting their turn.
The summer came and went with crowds of people. We had to limit the number of programs we offered because crowd sizes were getting too large. Around that time, we adjusted our schedule so the birds were on exhibit but not out for as many programs to eliminate close contact.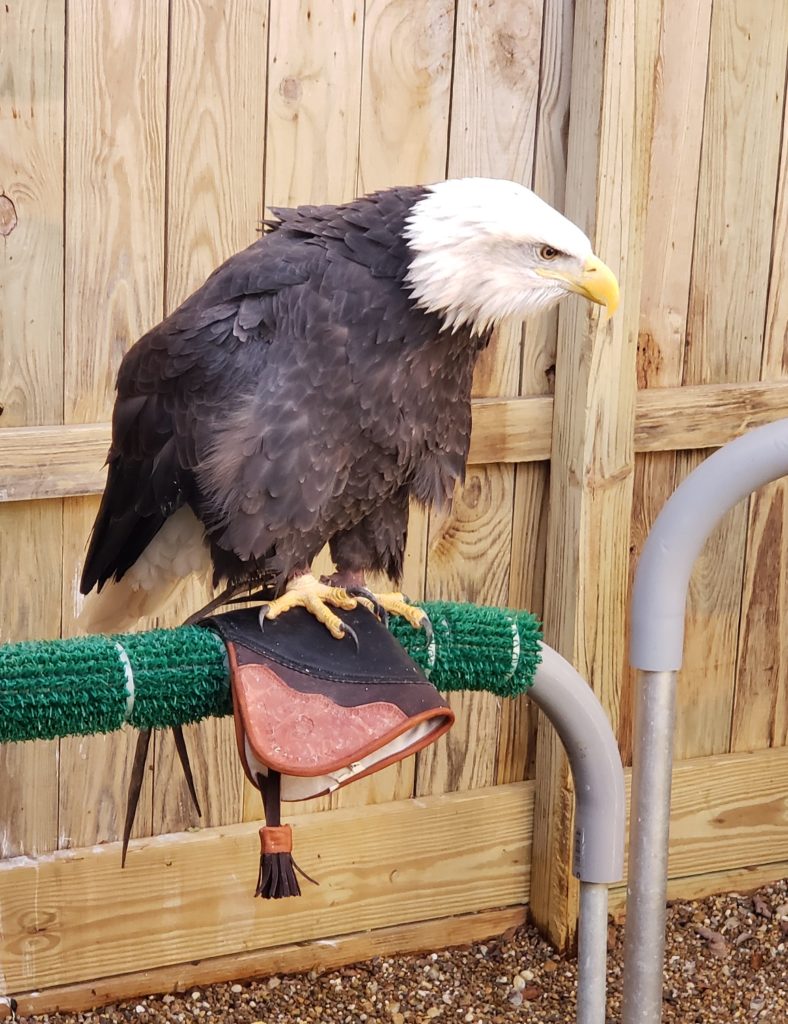 It was then that we decided to provide some additional aid to our birds. We increased the amount of enrichment we did with them. Enrichment can mean a multitude of things that we provide to keep them stimulated. Our birds have a few favorites. They enjoyed tearing up newspapers and old phone books, finding hidden food in boxes or under shredded slips of paper, and receiving mist baths. We provided dog toys that large pieces of food can be stuffed into and discovered by the birds as they inspect them.
With the change in our schedule, we decided to change up how we train the birds, too. Once Labor Day weekend ended, we took the birds off exhibit. We allowed them some down time before we began separate training with each bird. Training will continue to be ongoing throughout winter, and the birds will be on display again when the time is right. Just today, as I am writing this, the red-tailed hawk is sitting on his swing in the backyard. We trained him to no longer wear permanent jesses (the leather straps that hang down from his legs). He is now trained with removable jesses that are only on when he is on the glove.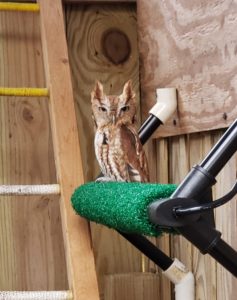 We have also just taken possession of the most beautiful red-phase eastern screech owl. She was found this summer unable to fly and deemed non-releasable. She will live out her life as an educational ambassador for her species here at Patoka Lake. Her training began immediately but she is still very much a wild bird. It will be several months before she is ready for educational programming. We will provide an update on our Facebook page when she is ready for visitors along with the red-tailed hawk and bald eagle.
~ Dana Reckelhoff, interpretive naturalist at Patoka Lake