If you would like to help reforest Indiana through the Indiana Tree Project, there are a couple of ways to contribute. Buy our limited-edition Tree Shirt. The sale of each shirt funds the planting of two trees in a state forest, and you will receive a tree certificate with coordinates that pinpoint the acre where your trees are to be planted.
And to read a story about the magic that can be done with Indiana's native forests, read on.
When you look at a tree, what do you see? Maybe you see it for what it is – a tall plant covered in bark, with limbs and leaves. You may see it for its natural function – a habitat for wildlife and the engine of oxygen for the air we breathe. Perhaps you also envision the possibilities that tree has from a craftsman's perspective. The tree can become lumber for the frame to a house, paper for the pages of a favorite book, or wood to carve into an instrument, like an acoustic guitar or hammered dulcimer.
This is the simple story of how Indiana musicians, Rhythmwood Drive, met and collaborated with Ted Yoder, world-class hammered dulcimer musician. It's also a story about the forests of Indiana, and how one walnut tree ties together a family's bond and the music that brings people together.
Ted Yoder, a world class hammered dulcimer musician, became an internet sensation in 2016 when his cover of Tears for Fears' song Everybody Wants to Rule the World went viral with over 101 million views worldwide. In the viral video, Yoder plays the song on his hammered dulcimer, making it look easy as he hits each intricately composed note. He is a happy, laid-back guy whose joy for playing is impossible to hide. He always plays barefoot, partially for comfort and partially as an homage to his teacher, Rich Mullins. His wife, Donna, their kids, and their pet raccoon, Gidget, can be seen in the video, listening while relaxing in their backyard in Goshen.
The video drew millions of views, and two viewers in particular were Sarah and Doug Haag – a married musical duo from Fortville called Rhythmwood Drive. During the time they first saw the video, Doug played the cajon (Spanish for "box"), and Sarah played the marimba.
(Sarah and Doug Haag play with Ted Yoder at Salamonie River State Forest.)
"I was blown away with his skill, authenticity, and family involvement," said Sarah, regarding the video. She was also intrigued by the other songs he chose to play, including covers of songs by classic rock acts like Journey, The Beatles, and Simon & Garfunkel.
"While my friends were listening to New Kids on the Block and NSYNC, I got a steady diet of Steve Miller Band, Tom Petty, and Van Halen. I think that's a big reason I was intrigued by Ted's playing. He was doing rock covers on a unique instrument, and that got my attention."
Sarah and Doug were so impressed they decided to see Ted play live. They drove to Metamora a couple of weeks after seeing the video and met Ted and Donna.
"I asked for a Skype lesson just regarding becoming a gigging musician, and it quickly grew into a great friendship between our families. I didn't think of playing dulcimer until a year later when my aunt let me borrow her hammered dulcimer," Sarah said. Once Sarah had the opportunity to play a hammered dulcimer, she began to take lessons from Yoder, who won the America's National Hammered Dulcimer Championship in 2010.
Fast-forward to 2018, after a year under Yoder's tutelage, when Sarah placed fifth in the same competition. In early 2019, Sarah and Doug were invited to record with Yoder at a studio in Chicago for his album Feels Like Home, which was released in July. The album release was followed by a tour, and the couple is working with Yoder on his upcoming album, which is set for a December release this year.
This is how Rhythmwood Drive met and collaborated with Ted Yoder. However, this story really begins long before Ted's cover of Tears for Fears' song went viral. It begins decades ago with a man named Paul Whybrew.
Whybrew was an outdoorsman and family man living in central Indiana. He worked as a high school guidance counselor and loved helping younger generations make their way through that pivotal time in their lives. He encouraged them to pursue their passions. He lived by example and never gave up on his own dreams while he helped others discover theirs. He flew a powered parachute and went through the rigorous process of having his land recognized as a private airport. He was a man of thought and action. He worked with his hands, and he didn't waste his materials, finding creative ways to use what was available to him.
Whybrew relied on heat from a wood-burning stove during the winter months. He preferred to gather his own wood rather than buying from local hardware stores. He enjoyed spending time exploring the woods on his family's farm land in Fairmount. He amassed a collection of stove wood over the years, storing much of it in wood piles. His children's dreaded chore was fetching wood from the piles to heat the stove. Paul saved good pieces of wood for his carpentry and made furniture for the family household, including headboards, a hand-carved jewelry box, shelves, stands, bunk beds, dressers, and more. He was a true craftsman who appreciated the trees he transformed into useful items for his family.
As a father, Paul was supportive and instilled a strong work ethic in his kids. He loved his son and daughter and made outdoor adventures a priority—hiking, canoeing, camping, cycling, and driving a stick shift were important childhood experiences for Paul's children.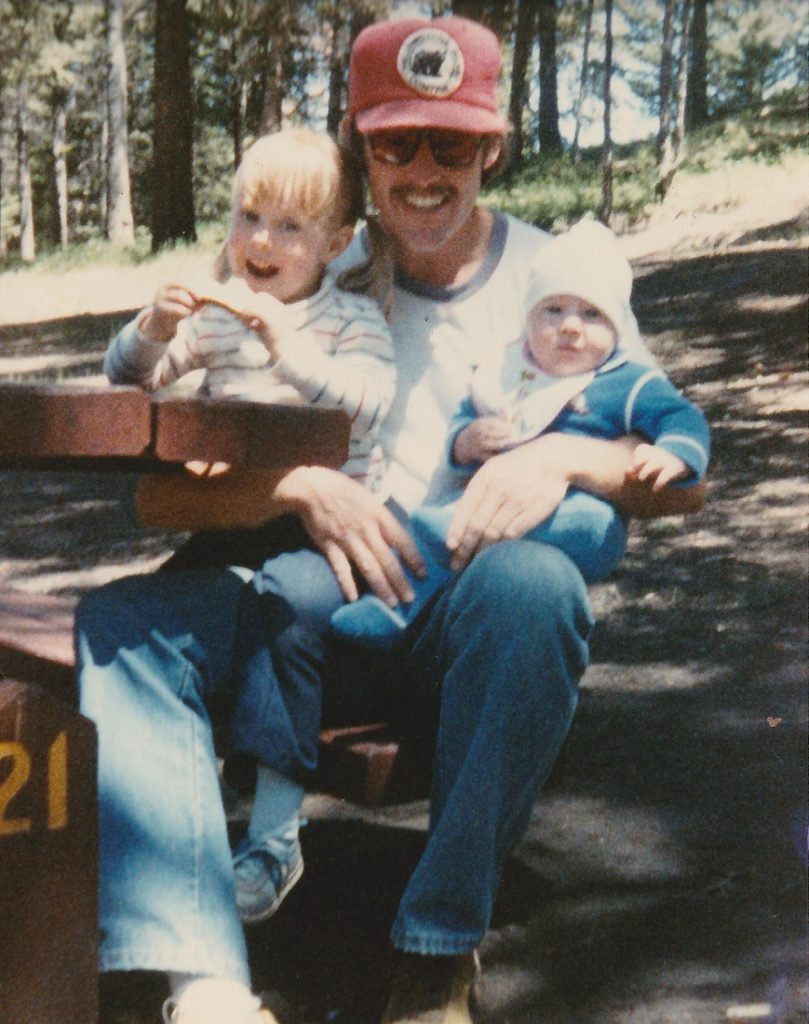 One day back in the late 1970s, before he had children, Whybrew spent a day searching for good pieces of native wood with his uncle. They came across a walnut tree that they couldn't pass up. He and his uncle carefully turned the tree into lumber. Whybrew stored the walnut lumber in his barn loft and used it over the years to create handcrafted pieces.
In March 2018, Whybrew passed away from complications due to pneumonia. His family began the slow process of mourning his loss. His wife and children set about the melancholy work of sorting his belongings, which brought back sweet memories but also bitter feelings. Their work soon brought them to the barn loft where they found a good amount of the walnut lumber Whybrew and his uncle had collected, now aged three decades but still in pristine condition.
Paul's daughter had an idea at that moment—an idea that could preserve a piece of her family's heritage and her father's memory. She could turn that walnut her father lovingly harvested into a musical instrument—one that would create beautiful music and serve as an heirloom to be passed down from generation to generation.
Whybrew's daughter happens to be Sarah Haag.
After that day, she took pieces of the walnut with her to Master Works in Bennington, Oklahoma, where Russell Cook, the owner and master luthier, inspected the wood's quality. She asked him if it was possible to include the wood in the making of a new hammered dulcimer. Sarah knew it was a special piece of wood when Russell and his fellow woodworkers admired the walnut.
Russell rubbed water onto one of the pieces, and it shone with stunning red and orange hues. He said the wood would absolutely make for a beautiful hammered dulcimer. Sarah called her friend and teacher, Yoder, who was also having a new instrument crafted at Master Works, and he chose a piece of the walnut to be used on his instrument as well.
"We spent the day looking at trim and stain options and ideas for custom inlays. I wanted a forever instrument that would be a family heirloom," Haag said. "I was stuck on what to put on the inlays as we didn't have any type of family crest. I called my mom and she instantly suggested something to do with Yellowstone. Our family often took vacations out there and both my parents worked in the park several summers: Dad drove a tour bus and mom worked in Old Faithful Inn and other places. He proposed to her out at Old Faithful Geyser, so that's what we ended up with as a family crest."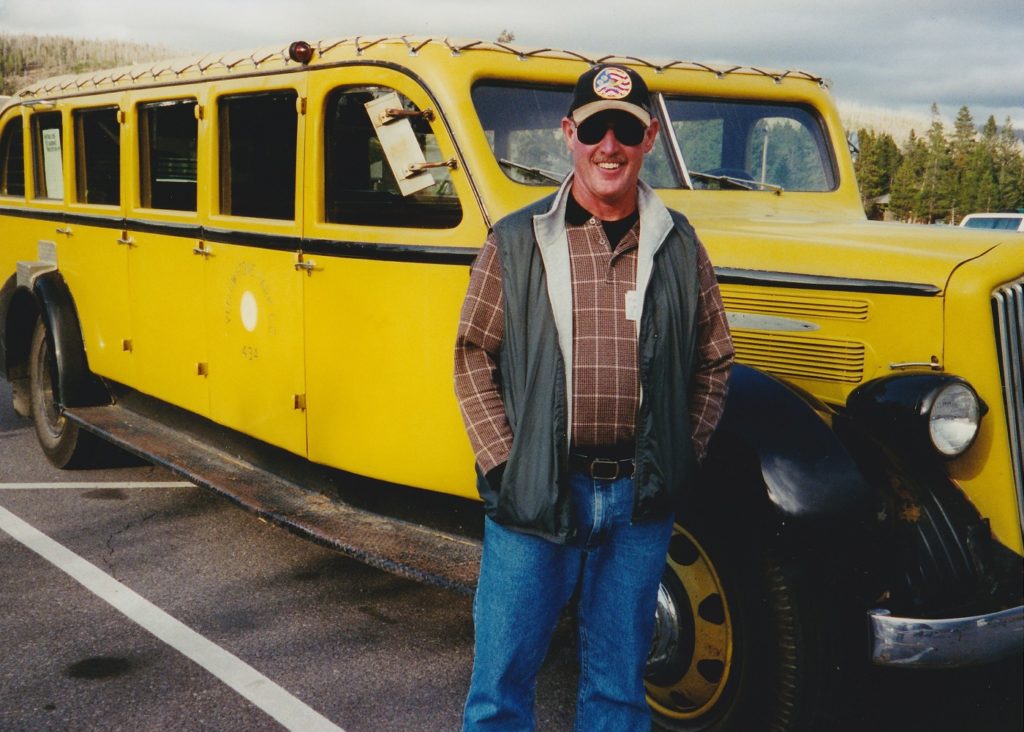 (Paul Whybrew stands in front of a vintage Yellowstone National Park tour bus.)
Sarah drove back to Indiana while Cook set to work on the custom instruments. Master Works dulcimers are handcrafted pieces of art that Sarah compares to the "Stradivarius of hammered dulcimers." Russell Cook has been crafting hammered dulcimers since 1979.
Once Master Works had completed the new instruments, they were presented to Sarah and Ted. "It brought smiles and tears and made beautiful music," Haag said.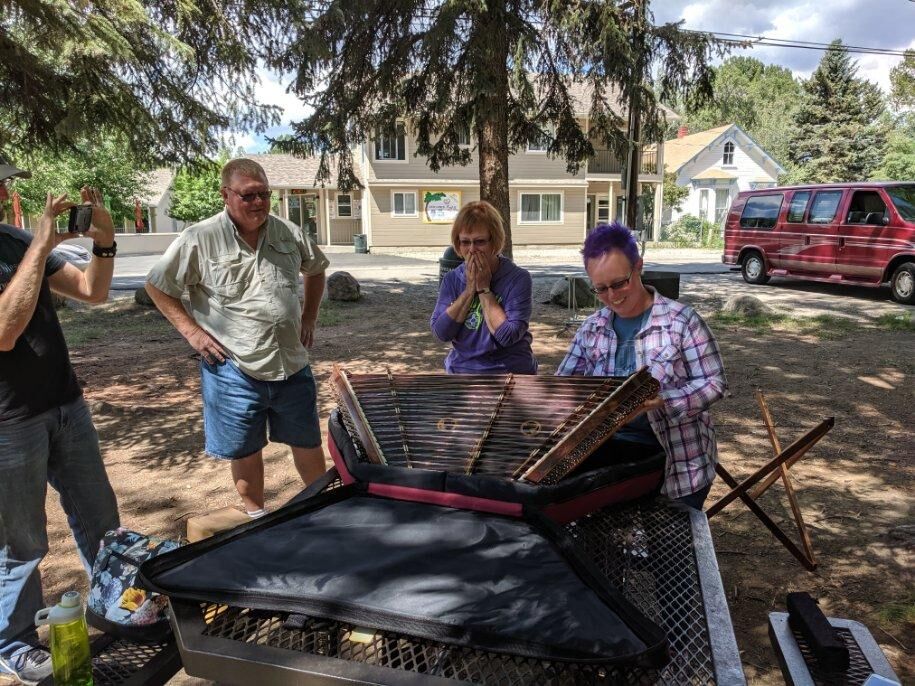 Sarah and Ted played their instruments together at the end of the Feels Like Home tour as well as in the recording sessions for the upcoming album in December. Their music made audiences happy, and their instruments were a tribute to Sarah's father as well as the possibilities derived from Indiana's natural resources.
So when you look at a tree, what do you see? Limbs and bark. Life. Possibilities. Music.
Planting trees in the forests of Indiana is an important component of conservation. It is important to replenish the trees that make our homes, tools, beautiful musical instruments, and so much more in modern life. Paul Whybrew would be proud that his daughter used the walnut he stored in his barn loft—proud that it was put to good use and made into something that lasts. He would also be proud to know she and Ted Yoder are supporting the Indiana Tree Project and helping the effort to reforest Indiana.
The Indiana Tree Project's goal is to plant one million trees in Indiana state forests. Reforestation is paramount to the health and happiness of current and future generations.
Consider making a donation to the Indiana Tree Project by clicking on the link at the bottom of this page. You can purchase Ted Yoder's music at tedyodermusic.com.