From Fascination to Occupation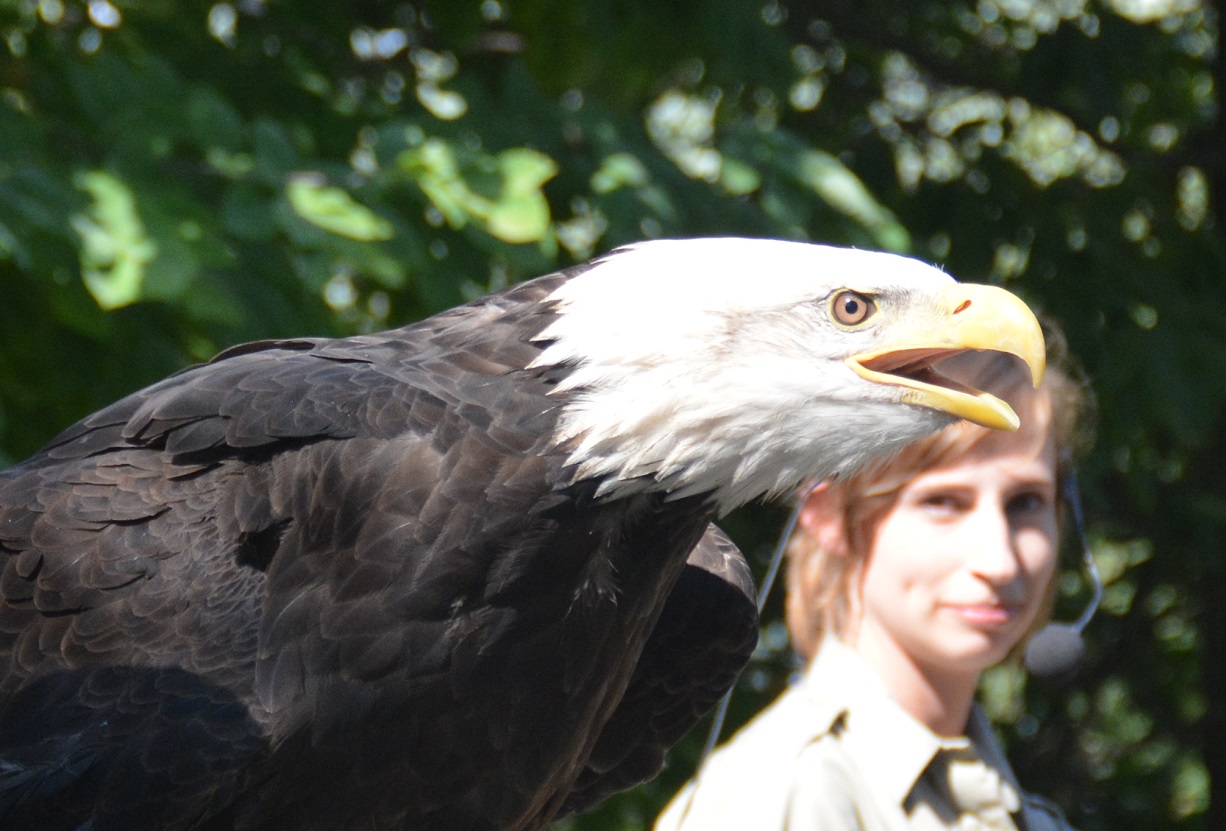 By Dana Reckelhoff, Interpretive Naturalist, Patoka Lake
Each year, teachers funnel into the Patoka Lake Nature Center for spring and fall field trips with anywhere between 40-120 eager, energetic kids. Many times the teachers prepare me for the excitement that awaits outside the front door. The energy continues as we walk toward the back door of the building. Then the students get quiet as we exit to the back yard where the birds are waiting in the viewing shelters. During programs with the birds of prey, students are usually hanging on every word and watching the birds in wonder. They come up with the most compelling questions and are extremely anxious to answer questions that I have for them. The excitement on the faces of those who have guessed correctly is always an enjoyment to see.
At the end of our longer programs or those presented at offsite locations, I offer the opportunity to touch the feathers of each of our birds. Everyone wants to put the screech owl on their hand. Let's face it, he is adorable.
Some want to hold that eagle close to their chest as I do and others look dreamily at the red-tailed hawk. While the actual birds would not allow guests to physically touch them, the experience of touch brings another level of emotion to the program. Allowing guests to touch the feathers helps them feel more connected to the birds. I try to link the use of our senses during each program. The experience of running one's fingers over feathers, feet, and talons that are no longer connected to a live bird of prey is still very impactful. Many students say they can imagine the force of those talons grabbing onto prey or the strength of flight from the eagle's feathers.
At these impressionable ages, school children and young adults are still deciding for themselves what is valuable in this life. Are they going to be a future litterbug, or the type of person who cuts the plastic rings that hold drinks in place so that animals can avoid getting stuck in them? I feel it is up to educators like myself to help people realize how their choices, big or small, impact the environment and show them the value in caring for even the smallest of creatures.
Children are still figuring out what kind of job they want to have in the future. Will the students I interact with daily go on to be the next foresters, marine biologists, ornithologists, or botanists? I'd like to hope that a percentage of them are swayed into environmental fields just as I was at a young age.
One such student was visiting with her family on school breaks when I first met her. Karen Hoffman came down to Patoka Lake with her family to visit local relatives over Easter in 2010. While in the area, the Hoffmans came to the Nature Center because Karen, at the time a middle schooler, was fascinated with birds of prey. They attended my raptor program and afterwards hung around the Nature Center. I could see they were anxious to talk more.
Karen's father, Jeff, initiated a conversation about how Karen was interested in the birds. They asked about where she should attend college, what degree she should get and which courses to take in order to work with these magnificent aerial hunters. That was not the last time I saw Karen and her family. They came back at least twice a year on school breaks from her home near Fort Wayne. Each time they visited family, they stopped in to catch a bird of prey program and ask more questions about careers, volunteer opportunities, colleges, and anything that might give her an advantage in pursuing her dreams.
Then I got the phone call I had been waiting for. Karen was calling to ask if she could work for me. She had just completed her first year of college and was looking for a summer position. She drove all the way down for the interview and, despite some tough competition, I couldn't possibly turn her down. She delivered a great program on turkey vultures during her interview, and I knew she was ready.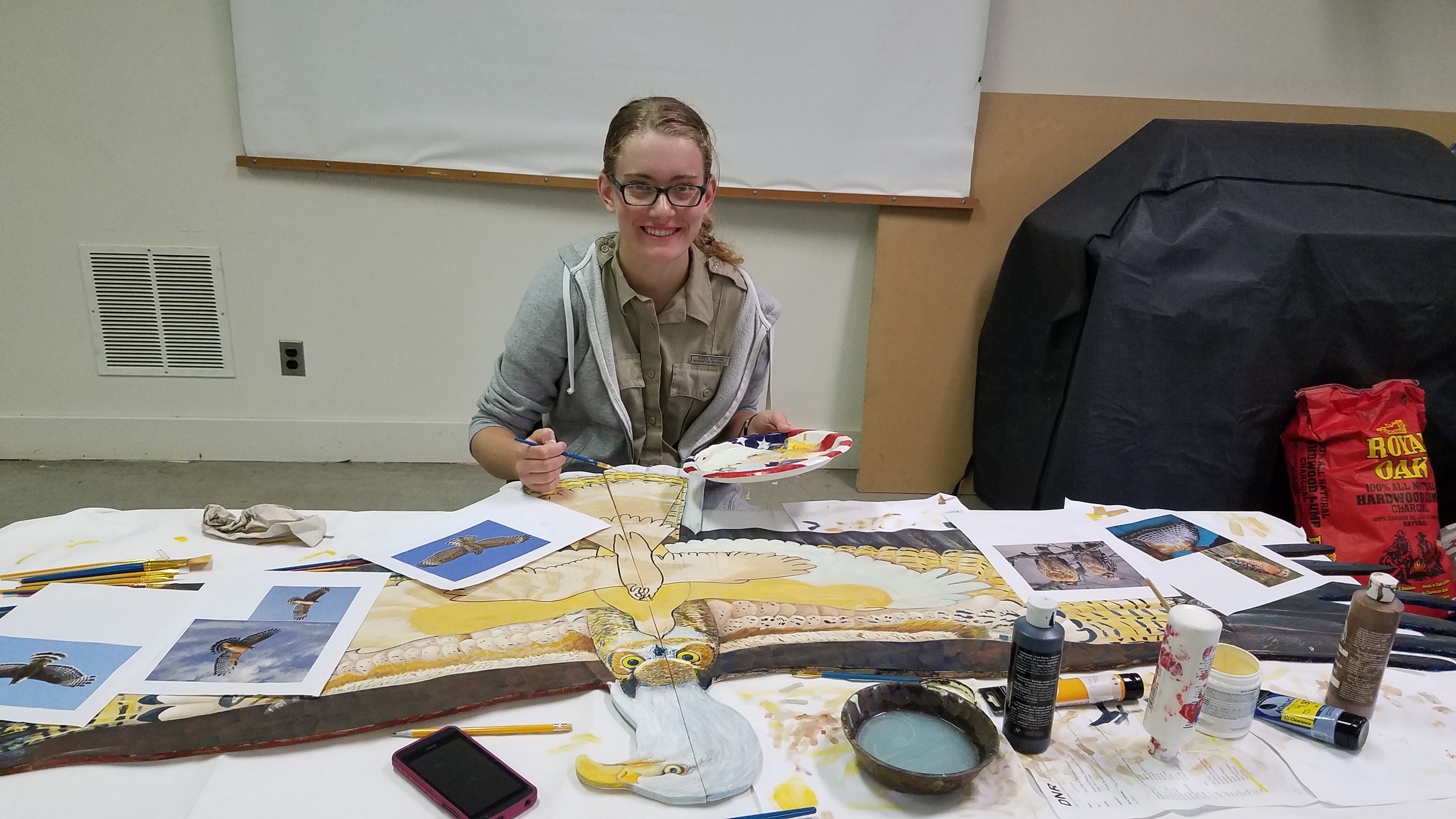 (Above: Karen paints a lifesize wingspan of an eagle for display.)
Karen started working for the Nature Center in May of 2017 and worked the entire summer. She came back for the 2018 summer season also. Then in September of 2018 came the phone call to use me as a job reference. This right here, folks, is what dreams are made of. We helped each other pursue our own dreams and opportunities.
My biggest goal in this career is to positively influence others to care for the environment and help boost my employees on to their next goal. Having only seasonal staffing positions, I know that the jobs I have available are usually just a stepping stone. I want to help build the future for my employees. I want to push their growth and development to the next level. It puts a huge smile on my face to have the experiences I have had with Karen. I got the opportunity to nurture this brilliant, young mind and watching her bloom into a wonderful colleague.
In my professional life, I have had many proud moments, but this one takes the cake. Educators don't always see the impact they make on peoples' lives. This instance makes me dream of the potential for each visitor as they walk through our front door and drive through the gates.
(Above: Kids at the Indiana State Fair take photos with the eagle wingspan Karen created.)