Patrick Haulter Talks Brown County Mountain Bike Project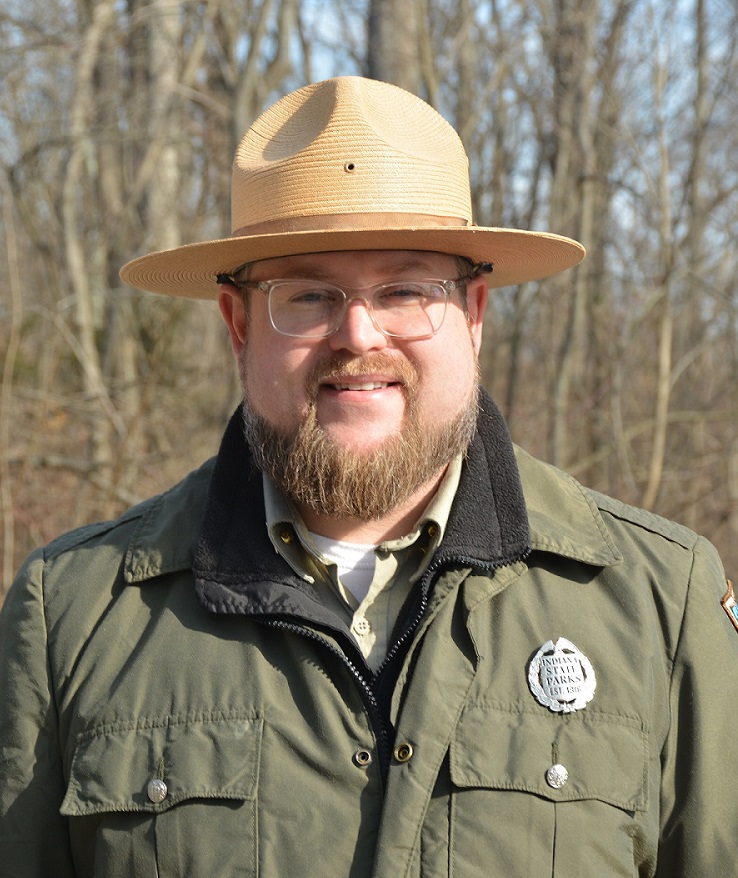 Patrick Haulter, Interpretive Naturalist at Brown County State Park
Hometown: Clarksville, Indiana
Alma Mater(s): Indiana University Southeast
Number of Years at Brown County: 4 years
Favorite Outdoor Activity: It's probably a tie between mountain biking and hiking.
How did you decide to become an interpretive naturalist?
When I was a kid, my father took us on a long trip out West. We visited several national parks, including Arches National Park. During our visit to Arches, our family took a guided hike with Christina, a park naturalist, to the Fiery Furnace. We thought she was so cool, and I remember thinking 'Huh … this is a job someone can do?' The next year, a movie called Jurassic Park came out and I was hooked. I went to school to study geology and, soon after graduating, took a seasonal position with Falls of the Ohio State Park. I enjoyed the position so much that I continued with the Indiana State Parks until I was able to get a full-time position.
What inspired you to apply for the Give Adventure Grant and start the mountain bike workshop program?
I've always been a cyclist. Again, as a kid, my brother and our friends were really into BMX racing. We would go to the track every Sunday to ride and compete. After coming to Brown County, I decided to try this mountain biking thing. Luckily the park had a bike I could borrow, and I very much enjoyed it. It made me wonder how many other people would fall in love with this recreational activity if only they were given the opportunity to try it. Mountain biking is intimidating both from a skills and cost perspective. I thought this grant would be a great way to bridge that gap.
How do you hope the mountain bike workshops affect the community in and around Brown County?
I really hope that we see more and more people begin to enjoy this sport. The mountain biking community has already begun to put its stamp on the town of Nashville, and I love watching that grow. It really is a great community of people and something I think helps promote the future of park users in and around Brown County State Park and Indiana State Parks as a whole. I hope these workshops give folks that otherwise may have never tried the activity a chance to give it a shot, overcome their fears, and fall in love with it, like myself and so many others have. I also hope that these workshops and some of the guided rides I plan to offer will help promote the idea of conservation to a new user group so that we can keep these amazing wild places beautiful for years and years to come.
Read more about the Give Adventure Grant and the upcoming mountain bike workshops.