Pacers, Fever and Clif Bar Partner with INRF and DNR Forestry to Plant Trees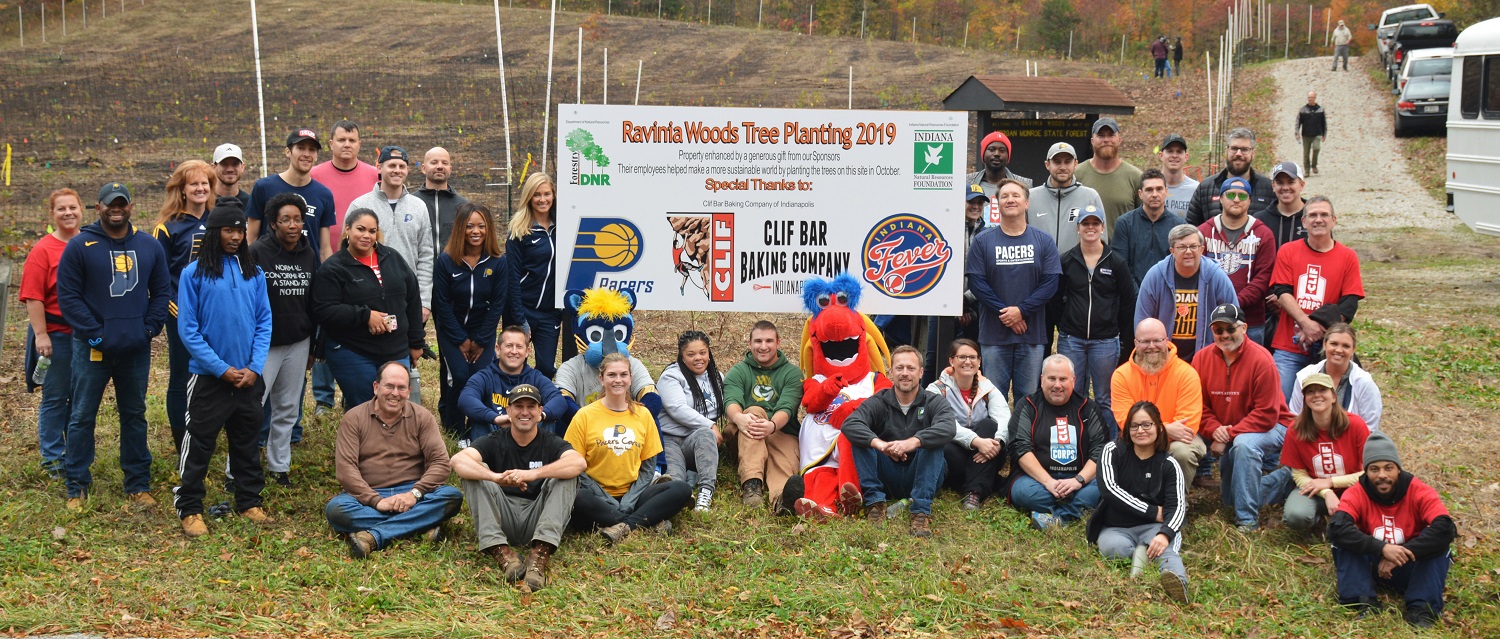 A healthy tree must have strong roots and a solid trunk, but it also needs flexibility so its branches can withstand the test of strong winds. During COVID-19, everyone is facing similar challenges of balancing strength and flexibility during this time of quarantine and social distancing. Many people have found that getting outdoors and appreciating the earth's natural beauty is a great way to fight the quarantine blues.
Earth Day and Arbor Day are two days of observance that sometimes go by without much notice. This year, Earth Day falls on April 22 and Arbor Day on April 24. Despite many events being canceled or postponed, we still have the opportunity to spend time outdoors. Fortunately, Indiana's state parks are still open to the public. (See current restrictions.) We encourage our readers to enjoy the great outdoors now and to continue to appreciate the gifts of nature in the future.
On Earth Day, the INRF had planned to do a tree planting in partnership with the Indiana Tree Project. The planting has been postponed, but our goals have not changed. Once COVID-19 restrictions are lifted, our public tree planting events will resume.
The last planting day took place in October 2019, in Morgan-Monroe State Forest, southwest of Indianapolis. We were joined by volunteers from DNR Division of Forestry, Clif Bar, the Indianapolis Pacers and the Indianapolis Fever in an effort that resulted in 5,000 seedlings being planted. The partnerships INRF formed with Clif Bar, the Pacers and the Fever are vital to such efforts. The support and volunteers provided by corporations that care make these and other INRF events successful.
"Being able to have our staff out of the office for the day to plant trees and help re-forestation is important," said Kristina Wedseltoft, community relations manager for Pacers Sports & Entertainment. "It's important for us to be involved in projects such as tree planting because of the necessity to give back, both to communities in which we live and also to the world we inhabit."
The impact of planting trees in Indiana is increasingly vital. The seedlings planted at these events will eventually create habitat for threatened wildlife species and capture carbon from carbon dioxide and store it, reducing carbon in the environment.
Corporate partnerships are important on tree planting days because they provide the ability to plant large numbers of trees all at once. This is done with the help of experts from DNR, and it creates a fun day for employees of our corporate partners to spend time outdoors doing something beneficial together. That day in October, the Pacers and Fever mascots, Boomer and Freddy Fever, along with a couple of Pacemates, joined in and helped plant trees with the other volunteers. Everyone pitched in, and 5,000 trees were planted before our catered lunch. An educational hike through the woods, led by a DNR forester, followed. Several volunteers said that they had a wonderful day and would love to do another tree planting in the future.
The positive impact from the trees planted will be felt for generations. Once the plantings resume, if you are interested in helping with the Indiana Tree Project, please consider speaking with your company to get involved, and contact us to receive more details.